Quality of biscuits as affected by addition of fibre
Keywords:
fibre, biscuit, baking experiment, sensoric assessment, nutritional value
Abstract
The aim of the study was to propose formulas with addition of bamboo and hemp fibre and grape seed flour in an amount of 3, 6 and 9% and then assess the effect of added fibre on the quality of biscuits. A total of 20 samples were baked, in half of the samples the basic ingredient was wheat flour, and in the rest of samples spelt flour was used. During a baking experiment, it was found that the best effect on the product volume and the weight after baking had bamboo fibre. Minor baking losses occurred in biscuits with wheat flour. The best sensory results were attained with the sample having 3% of grape seed flour with a spelt flour base. The crispiest was the sample made from spelt flour with 3% of hemp fibre and the wheat samples with bamboo fibre were of the lightest colour. Control samples had the highest nutritional values and biscuits with added bamboo fibre contained the lowest energy in both formulas.
Downloads
Download data is not yet available.
References
Bilgiçli, N., İbanoglu, Ş., Herken, N. E. 2007. Effect of dietary fibre addition on the selected nutritional properties of cookies. Journal of Food Engineering, vol. 78, no. 1, p. 86-89. https://doi.org/10.1016/j.jfoodeng.2005.09.009
Brownlee, I. A., Chater, P. I., Pearson, J. P., Wilcox, M. D. 2017. Dietary fibre and weight loss: Where are we now? Food Hydrocolloids, vol. 68, p 186-191. https://doi.org/10.1016/j.foodhyd.2016.08.029
Cappa, C., Lucisano, M., Mariotti, M. 2013. Influence of Psyllium, sugar beet fibre and water on gluten-free dough properties and bread quality. Carbohydrate Polymers, vol. 98, no. 2, p. 1657-1666. https://doi.org/10.1016/j.carbpol.2013.08.007
Frakolaki, G., Giannou, V., Topakas, E., Tzia C. 2018. Chemical characterization and breadmaking potential of spelt versus wheat flour. Journal of Cereal Science, vol. 79, p. 50-56. https://doi.org/10.1016/j.jcs.2017.08.023
Gómez, M., Moraleja, A., Oliete, B., Ruiz, E., Caballero, P. A. 2010. Effect of fibre size on the quality of fibre-enriched layer cakes. LWT - Food Science and Technology, vol. 43, no. 1, p. 33-38. https://doi.org/10.1016/j.lwt.2009.06.026
Hrušková, M., Švec, I. 2016. Durable pastry - unconventional recipes and nutritional benefits of biscuits (Trvanlivé pečivo – Netradiční receptury a nutriční přínos sušenek). University of Chemistry and Technology, Prague. Available at: http://docplayer.cz/20393921-Trvanlive-pecivo-neradicni-receptury-a-nutricni-prinos-susenek-doc-ing-marie-hruskova-csc-ing-ivan-svec-ph-d.html. (In Czech)
Kadlec, P., Melzoch, K., Voldřich, M. 2012. Overview of traditional food production: food technology. Ostrava : Key Publishing. ISBN 978-80-7418-145-0.
Kumar, K. A., Sharma, G. K., Khan, M. A., Govindaraj, T., Semwal, A. D. 2015. Development of multigrain premixes its effect on rheological, textural and micro-structural characteristics of dough and quality of biscuits. Journal of Food Science and Technology, vol. 52, no. 12, p. 7759-7770. https://doi.org/10.1007/s13197-015-1950-9
Mancebo, C. M., Rodríguez, P., Martínez, M. M., Gómez, M. 2017. Effect of the addition of soluble (nutriose, inulin and polydextrose) and insoluble (bamboo, potato and pea) fibres on the quality of sugar-snap cookies. International Journal of Food Science & Technology, vol. 53, no. 1, p. 129-136. https://doi.org/10.1111/ijfs.13566
Maner, S., Sharma, A. K., Banerjee, K. 2015. Wheat Flour Replacement by Wine Grape Pomace Powder Positively Affects Physical, Functional and Sensory Properties of Cookies. Proceedings of the National Academy of Sciences, India Section B: Biological Sciences, vol. 87, no. 1, p. 109-113. https://doi.org/10.1007/s40011-015-0570-5
Marko A., Rakická M., Šturdík E. 2015. Functional ingredients of cereals effective in prevention of civilization diseases. Chemical Letters, vol. 109, p. 21-28. Available at: http://www.chemicke-listy.cz/docs/full/2015_01_21-28.pdf
Raymundo, A., Fradinho, P., Nunes, N. C. 2014. Effect of Psyllium fibre content on the textural and rheological characteristics of biscuit and biscuit dough. Bioactive Carbohydrates and Dietary Fibre, vol. 3, no. 2, p. 96-105. https://doi.org/10.1016/j.bcdf.2014.03.001
Van Der Kamp, J. W., Jones, J., Mccleary, B., Topping, D. 2010. Dietary fibre. The Netherlands : Wageningen Academic Publishers, ISBN 978-90-8686-128-6. https://doi.org/10.3920/978-90-8686-692-2
Vitali, D., Dragojević, I. V., Šebečić, B. 2009. Effects of incorporation of integral raw materials and dietary fibre on the selected nutritional and functional properties of biscuits. Food Chemistry, vol. 114, no. 4, p. 1462-1469. https://doi.org/10.1016/j.foodchem.2008.11.032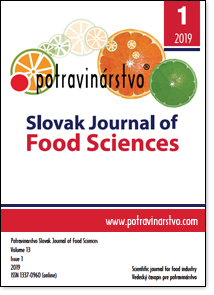 How to Cite
Šottní­ková, V. ., Langová, R. ., Hřivna, L. ., Nedomová, Šárka ., & Jůzl, M. . (2019). Quality of biscuits as affected by addition of fibre. Potravinarstvo Slovak Journal of Food Sciences, 13(1), 206–211. https://doi.org/10.5219/1034
License
Authors who publish with this journal agree to the following terms:



Authors retain copyright and grant the journal right of first publication with the work simultaneously licensed under a Creative Commons Attribution License that allows others to share the work with an acknowledgement of the work's authorship and initial publication in this journal.


Authors are able to enter into separate, additional contractual arrangements for the non-exclusive distribution of the journal's published version of the work (e.g., post it to an institutional repository or publish it in a book), with an acknowledgement of its initial publication in this journal.


Authors are permitted and encouraged to post their work online (e.g., in institutional repositories or on their website) prior to and during the submission process, as it can lead to productive exchanges, as well as earlier and greater citation of published work (See The Effect of Open Access).