Morphological characteristics and determination of volatile organic compounds of Diospyros virginiana L. genotypes fruits
Keywords:
American persimmon, fruits, seeds, morphometric characteristics, volatile compounds, fatty acids
Abstract
The aim of this study was to determine morphometric differences of fruits and seeds between 19 selected American persimmon (Diospyros virginiana L.) genotypes. The genotypes of American persimmon have been growing more than 15 years in Forest-Steppe of Ukraine in the M.M. Gryshko National Botanical Garden of NAS of Ukraine. They are well adapted to the climatic and soil conditions. The fruits were collected at the period of their full maturity (October). The population differs in a weight, shape, size and color of fruits and seeds. Their morphometric parameters were following: fruit weight from 2.30 to 81.30 g, fruit length from 8.84 to 49.73 mm, fruit width from 12.84 to 55.34 mm, seed weight from 0.1 to 1.0 g, seed length from 8.30 to 20.88 mm, fruit width from 7.04 to 14.88 mm, seed thickness from 1.98 to 7.09 mm and number of seeds in the fruit from 1 to 8. Partenocarpic fruits are found in some genotypes. The shape indexes of fruits and seeds were found ranging from 0.74 to 1.10 and from 1.01 to 1.77, respectively. During the analysis of qualitative composition and quantitative content of volatiles of fruits from the 4 perspective genotypes of Diospyros virginiana 106 compounds were detected. From them 83 compounds were identified. The identified compounds belong to alcohols, saturated and unsaturated aldehydes, ketons, fatty acids, esters, terpenoids etc. The fruits are rich in fat acids. The outcome of the research points to the fact that the genepool of Ukrainian Diospyros virginiana is a rich source of genetic diversity and might be used in selection for creation a new genotypes and cultivars.
Downloads
Download data is not yet available.
References
Acree, T., Arn, H. 2004. Flavornet and human odor space [online] s.a. [cit. 2009-07-28] Available at: http://www.flavornet.org/flavornet.html.
Akhund-Zade I. M. 1957. Results of introduction and perspectives of development of persimmon in Azerbaijan. Publishing house of the Academy of Sciences of the Azerbaijan SSR : Baku. 97 р.
Baietto, M., Wilson, A. D. 2015. Electronic-Nose Applications for Fruit Identification, Ripeness and Quality Grading. Sensors, vol. 15, no. 1, p. 899-931.
Bartram, I. 1772. A Memoir on the Distillation of Persimons. Transactions of the American Philosophical Society, vol. 1, p. 231-234.
Bellini, E. 2002. Cultural practices for persimmon production. In: Bellini E. and Giordani E. First Mediterranean symposium on persimmon. Zaragoza : CIHEAM, p. 39-52. ISBN 2853522490.
Besada, C., Sanchez, G., Salvador, A., Granell, A. 2013. Volatile compounds associated to the loss of astringency in persimmon fruit revealed by untargeted GC - MS analysis. Metabolomics, vol. 6, no. 1, p. 157-172.
Briand, C. H. 2005. The common persimmon (Diospyros virginiana L.): the historyof an under utilized fruit tree (16 - 19th centuries). Huntia, vol. 12, no. 1, p. 71-89.
Fletcher, W. F. 1915. The native persimmon. Farmers' Bulletin, vol. 685, no. 12, p. 1-24.
Foster, S., Duke, J. A. 1999. A field guide to medicinal plants and herbs of Eastern and Central North America. Boston : Houghton Mifflin. 411 p. ISBN 0395988144.
Gálik, B., Bíro, D., Šimko, M., Juráček, M., Capcarová, M., Kolesárová, A., Rolinec, M., Toman, R., Kanka, T. 2016. The effect of dietary bee pollen intake on growth performance and biochemical indicators of rats. Acta Veterinaria Brno, vol. 85, no. 1, p. 99-104.
Goodell, E. 1982. Promising fruit plants for northern landscapes. Arnoldia, vol. 40, p. 103-133.
Grygorieva, O., Brindza, J., Vietoris, V., Kucelová, L., Tóth, D., Abraham, V., Hricová, M. 2011. Morphological and organoleptic fruit properties of various persimmon species (Diospyros spp.). Potravinarstvo, vol. 5, no. 3, p. 11-19. https://dx.doi.org/10.5219/150
Grygorieva, O., Klymenko, S., Brindza, J., Kochanova, Z., Toth, D., Derevjanko, V., Grabovecka, O. 2009. Introduction, breeding and use of persimmon species (Diospyros spp.) in Ukraine. Acta Horticulturae (ISHS), vol. 833, p. 57-62.
Grygorieva, O., Vergun, E., Brindza, J., Rakhmetov, D., Stehlikova, B. 2012. Ascorbic acid content changes in the leaves of selected species of Diospyros spp. genus during their growth. In The 3rd International Symposium on Medicinal Plants, Their Cultivation and Aspects of Uses. Petra-Jordan, рp. 75-76. ISBN 978-9957-31-012-7.
Grygorieva, O. V. 2011. Morphological and bioecological features and reproduction of oriental persimmon (Diospyros virginiana L.) in the Forest-Steppe of Ukraine. Scientific Reports of NULES of Ukraine, vol. 2, no. 24, p. 1-20.
Hague, S. M. 1911. A morphological study of Diospyros virginiana. Botanical Gazette, vol. 52, no. 1, p. 34-44.
Halls, L. K. 1990. Diospyros virginiana L. In Burns R. M and Honkala B. H. Silvics of North America. Washington, DC : Department of Agriculture, Forest Service. p. 294-298. ISBN 86-600518.
Hamel, P. B., Chiltoskey, M. U. 1975. Cherokee Plants and Their Uses: A 400 Year History. Herald Publishing Co. : Sylva, North Carolina. 65 p.
Herkeľ, R., Gálik, B., Bíro, D., Rolinec, M., Šimko, M., Juráček, M., Arpášová, H., Wilkanowska, A. The effect of a phytogenic additive on nutritional composition of turkey meat. Journal of Central European Agriculture, vol. 17, no. 1, p. 25-39.
Holdeman, Q. L. 1998. Persimmons for Louisianaʾs Children- young and old [online] s.a. [cit. 2007-05-13] Available at: http://webpages.charter.net/jtholdeman/PFLC1_QLH.pdf.
Horvat, R. J., Senter, S. D., Chapman, G. W., Payne, J. A. 1991. Volatile compounds from the mesocarp of persimmons. Journal of Food Science, vol. 56, no.1, p. 262-263.
Charley, W., Mitchell, M., Kidd, K. 1999. Antibiotics laboratory medicine. In The antimycobacterial susceptibility tests. New York : Williams & Wilkins Press, р. 127-175.
Chentsova, Е. S. 2008. Perspectives of introduction and using of several species of persimmon in the Kuban zone of fruit growing : dissertation theses. Krasnodar. 158 p.
Chernogorod, L. B., Vinogradov, B. A. 2006. Essential oils of some species of the genus of Ahillea L. containing fragranol. Rastitelnye resursy, vol. 42, no. 2, p. 61-68.
Isfahani, N. B., Hozoorbakhsh, F., Rashed, K., Havaei, S. A., Heidari, K., Moghim, S. 2014. Effect of Lagerstroemia tomentosa and Diospyros virginiana methanolic extracts on different drug-resistant strains of mycobacterium tuberculosis. Research in Pharmaceutical Scientes, vol. 9, no. 3, p. 193-198.
Mallavadhani, U. V., Panda, A. K., Rao, Y. R. 1998. Pharmacology and chemotaxonomy of Diospyros. Phytochemistry, vol. 49, no. 4, p. 901-951.
MartineliI, M., Alves, A. A. R., de Figueiredo, GM., de Rezende, C. M., de Oliveira Fonseca, M. J. 2013. Persimmon cv. 'Mikado': analysis of volatile compounds in astringent and astringency removal. Ciência Rural, vol. 43, no. 8, p. 1516-1521.
Oz, A. T, Kefalas, P. 2010. Quantity of the flavonoid profile peaks during storage and ripening in persimmon fruit. Journal of Food, Agriculture & Environment, vol. 8, no. 3, p. 132-134.
Ozbilgin, A., Kayalar, H., Rashed, K., Ural, I. O., Cavus, I. 2016. Comparative investigation on antimalarial activity of Ficus nitida, Terminallia bellerica and Diospyros virginiana in BALB/C MICE infected with P. Berghei. International Journal of Innovative Pharmaceutical Sciences and Research, vol. 4, no. 5, p. 470-478.
Priya, S., Nethaji, S. 2014a. Evaluation of antioxidant activity of leaf and bark extracts of Diospyros virginiana in rats. International Journal of PharmTech Research, vol. 8, no. 3, p. 1032-1035.
Priya, S., Nethaji, S. 2015b. Antipyretic activity of ethanolic extract of leaf and bark of Diospyros virginiana in yeast induced pyrexia. International Journal of Pharmacy and Pharmaceutical Sciences, vol. 7, no. 9, p. 502-504.
Priya, S., Nethaji, S. 2015c. Hepatoprotective activity of ethanolic extract of Diospyros virginiana in CCl4 induced hepatotoxicity in swiss albino rats. International Journal of PharmTech Research, vol. 8, no. 3, p. 444-447.
Priya, S., Nethaji, S. 2014d. Phytochemical Screening and Trace Element Analysis of Diospyros virginiana. Research Journal of Pharmacology and Pharmacodynamics, vol. 6, no. 1, p. 5-7.
Rashed, K., Ćirić, A., Glamočlija, J., Soković, M. 2014. Antibacterial and antifungal activities of methanol extract and phenolic compounds from Diospyros virginiana L. Industrial Crops and Products, vol. 59, p. 210-215.
Rauf, A., Uddin, G., Patel, S., Khan, A., Halim, S. A., Bawazeer, S., Ahmad, K., Muhammad, N., Mubarak, M. S. 2017. Diospyros, an under-utilized, multi-purpose plant genus: A review. Biomedicine and Pharmacotherapy, vol. 91, p. 714-730.
Richter, A. A. 2001. The improvement of the quality of fruit cultures. Simferopol : Tavriya. 425 р.
Ross, N. J., Stevens, M. H. H., Rupiper, A. W., Harkreader, J., Leben, L. A. 2014. The Ecological Side of an Ethnobotanical Coin : Legacies in Historically Managed Trees. American Journal of Botany, vol. 101, no. 10, p. 1618-1630.
SAS, 2009. User᾽s Guide Version 9. 2. SAS/STAT ® SAS Institute Inc. Cary, NC, USA.
Shukla, Y. N., Kapadia, G. J., Govind J. 1989. Chemical constituents of Diospyros virginiana. Indian Journal of Pharmaceutical Sciences, vol. 51, no. 2, p. 73.
Skallerup, H. R. 1953. The distribution of Diospyros virginiana L. Annals of the Missouri Botanical Garden, vol. 40, no. 3, p. 211-225.
Spongberg, S. A. 1979. Notes on Persimmons, Kakis, Date Plums, and Chapotes. Arnoldia, vol. 39, no. 5, p. 290-309.
Stehlíková, B., 1998. Basics of biostatiscics (Biodiversity protection 51)) (Základy bioštatistiky (Ochrana biodiverzity 51)). Nitra : SPU, 79 p. ISBN 80-7137-539-X.
Surkhayev, G. A. 2006. Introduction and perspectives of using of unabi, almonds and persimmon in the Western Caspian : dissertation theses. Volgograd. 124 p.
Taira, S. 1995. Astringency in persimmon. In H. F. Linskens and J. F. Jackson (Eds.), Fruit analysis. Germany : Springer, p. 97-110. ISBN: 978-3-642-79662-3.
Trigg, P. I., Kondrachine, A. V. 1998. The Current Global Malaria Situation. In W. Sherman. Malaria parasite Biology, Pathogenesis and Protection. Washington, USA : ASM Press, p. 11-22.
Vitkovsky, V. V. 2003. Fruit plants of the world. Lan : St. Petersburg, Publisher. 593 р. ISBN 5-8114-0477-8.
Wallnöfer, B. 2001. The Biology and Systematics of Ebenaceae: aReview. Annalen Des Naturhistorischen Museums in Wien, vol. 103, p. 485-512.
Wang, X., Habib, E., Leon, F., Radwan, M. M., Tabanca, N., Gao, J., Wedge, D. E., Culter, S. J. 2011. Antifungal metabolites from the roots of Diospyros virginiana by overpressure layer chromatography. Chemistry and Biodiversity, vol. 8, no. 12, p. 2331-2340.
Wegl, G., Rolinec, M., Nagl, V., Fibi, S., Klose, V., Gierus, M., Schatzmayr, G. 2016. Effects of a natural feed additive and an in-feed antibiotic on abundance of antibiotic resistance genes in feces of weaned piglets. In: IPVS 2016. Dublin, Ireland : Royal Dublin Society, p. 440.
Zohary, D. 2004. Unconscious selection and the evolution of domesticated plants. Economic Botany, vol. 58, no. 1, p. 5-10.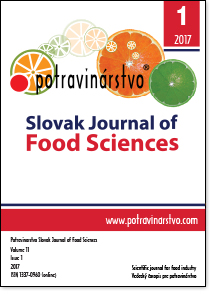 Downloads
How to Cite
Grygorieva, O. ., Klymenko, S. ., Vergun, O. ., Hudz, N. ., Nikolaieva, N. ., Schubertová, Z. ., Palamarchuk, O. ., & Brindza, J. . (2017). Morphological characteristics and determination of volatile organic compounds of Diospyros virginiana L. genotypes fruits. Potravinarstvo Slovak Journal of Food Sciences, 11(1), 612–622. https://doi.org/10.5219/808
License
Authors who publish with this journal agree to the following terms:



Authors retain copyright and grant the journal right of first publication with the work simultaneously licensed under a Creative Commons Attribution License that allows others to share the work with an acknowledgement of the work's authorship and initial publication in this journal.


Authors are able to enter into separate, additional contractual arrangements for the non-exclusive distribution of the journal's published version of the work (e.g., post it to an institutional repository or publish it in a book), with an acknowledgement of its initial publication in this journal.


Authors are permitted and encouraged to post their work online (e.g., in institutional repositories or on their website) prior to and during the submission process, as it can lead to productive exchanges, as well as earlier and greater citation of published work (See The Effect of Open Access).