Ecotoxicological studies of Akmola region lakes
Keywords:
ecotoxicants, persistent organic pollutants, monitoring, accumulation, lake
Abstract
The research object is water, bottom sediments in Akmola region lakes located in the intensive agriculture area. The territory of Akmola region is subjected to intensive human impacts, including the inevitable pollution with agricultural pesticides, which are ecotoxicants. The work has carried out hydrochemical studies in technogenic polluted lakes: general hydrochemical indicators, persistent organic pollutant content. The POPs in the samples were determined on the gas chromatograph Clarus 580 (PerkinElmer) with a mass spectrometer detector Clarus-SQ 8. According to the analysis results, the general hydrochemical pollution is classified as an average. The MPC excess indicators in the Akmola region lakes are observed for salt ammonium (up to 0.002 MPC), magnesium (up to 1.15 MPC), nitrites (up to 1.12 MPC), petroleum products (up to 1.98 MPC), iron (up to 2.0 MPC), SSAS (up to 3.8 MPC). High concentration indicators for the sulphate (3.5 MPC), copper (4.3 MPC), magnesium (1.125 MPC). Mainly the lakes are dominated by sulfates, ion chloride. But in general among 21 investigated POPs 8 substances are accumulated in bottom sediments of the investigated Zhalauly, Tastykol lakes, Unnamed Lake to the south of Akkol village, Itemgen lake, Zhalanash lake near Malinovka village (near Astana city), Kokay, Yesey, Bolshoe Chebachie.
Downloads
Download data is not yet available.
References
Akbayeva, L. K. H., Zhamangara, A. K., Kobetaeva, N. K., Kumiskhanova, B. K., Nurmashev, A. B. 2016. Hydrochemical analysis of a number of the Akmola region lakes // Science and education: experience, problems and prospects of development: Part II. Science: experience, problems, prospects: Materials of XIV International Scientific-Practical Conference. (19-21 April 2016)/ Krasnoyarsk. State Agrarian. Univ. - Krasnoyarsk, p. 36-39. Available at: https://elibrary.ru/item.asp?id=26439013
Akbayeva, L., Muratov, R., Zhamangara, A., Beisenova, R., Zhantokov, B. 2014. Seasonal Dynamics of Phytoplankton and Bacterial Plankton Characteristics in Esil River. Biosciences Biotechnology Research Asia, vol. 11, no. 3. p. 1087-1093. https://doi.org/10.13005/bbra/1493
Gopal K., Surjeet S., Suman G., Kumar, C. P., Ghosh, N. C. 2016. Water Quality Assessment in Terms of Water Quality Index (WQI) Using GIS in Ballia District, Uttar Pradesh, India. Journal of Environmental & Analytical Toxicology, vol. 6, no. 3, p. 1-6. https://doi.org/10.4172/2161-0525.1000366
Grancová-Bielková, Z., Sokol, J. 2010. Estimation of the burden of pesticide residues in slovak population. Potravinarstvo, vol. 4, no. 3. p. 6-9. https://doi.org/ https://doi.org/10.5219/69
Investment opportunities of the region. 2017. Official Internet resource of Akmola region [online] s.a. [cit.2018-08-15]. Available at: http://aqmola.gov.kz/page/read/Investicionnye_vozmozhnosti_regiona.html?lang=ru
Jepson, P. D., Law, R. J. 2016. Persistent pollutants, persistent threats. Science, vol. 352, no. 6292, p. 1388-1389. https://doi.org/10.1126/science.aaf9075
Kádeková, Z., Récky, R., Nagyová, Ľ., Košičiarová, I., Holienčinová, M. 2017. Consumers´ purchasing preferences towards organic food in Slovakia. Potravinarstvo Slovak Journal of Food Sciences, vol. 11, no 1, p. 731-738. https://doi.org/10.5219/846
Kholubek, I., Klanova, Y. A., Kochan, A. 2012. The structure of the proposed network for monitoring persistent organic pollutants (POPs) in Kazakhstan. Services for developing and implementing a training program on the PCB analysis and monitoring procedure. Part 2. Brno, Scientific cent RECETOX : Masaryk University, 27 p. Available at: https://docplayer.ru/42452162-Struktura-predlagaemoy-seti-po-monitoringu-stoykih-organicheskih-zagryazniteley-soz-v-kazahstane.html
Kukeyeva, F. T., Delovarova, L. F., Ormysheva, T. A., Shakirov, K. N. 2015. Sustainable Development and Water Management Issues: transboundary Rivers Management Gaps between Kazakhstan and China (Case of Ili and Irtysh). Oxidation Communications, vol. 38, no. 3, p. 1480-1490. ISSN 0209-4541.
Ljunggren, S. A., Helmfrid, I., Salihovic, S., van Bavel, B., Wingren, G., Lindahl, M., Karlsson, H. 2014. Persistent organic pollutants distribution in lipoprotein fractions in relation to cardiovascular disease and cancer. Environment International, vol. 65, p. 93-99. https://doi.org/10.1016/j.envint.2013.12.017
Ministry of Health of the USSR. 1987. Methodical instructions for determining HCCH and DDT in silt sulfide medical mud by gas-liquid chromatography (approved by the Ministry of Health of the USSR 08.06.1987. N4343-87) Available at: http://lawru.info/dok/1987/06/08/n1180972.html
Press service of the Prime Minister of the Republic of Kazakhstan. 2018. Akmola region akimat website. Available at: https://primeminister.kz/page/article-83
Seitkasymova G. Z. 2015. Ecological and hygienic assessment of surface waters of populated areas of the Akmola region. Occupational health and medical ecology, vol. 4, no. 49, p. 78-82.
Shabanova, L. V., Ishankulov, M. S., Undasynova, G. D., Dzhusupov, A. E., Sergazina, Z. K. 2010. Information and Analytical Center of Environmental Protection. Report on the Program 001 "Ensuring the authorized body work in the field of environment" on "Preparation of the first national report on persistent organic pollutants to the secretariat of the Stockholm Convention on POPs". Available at: http://referatdb.ru/pravo/114349/index.html
Sibagatullina, A. M., Mazurkin, P. M. 2009. Measurement of pollution of river water (on the example of the small river Malaya Kokshaga). Moscow, Russian Federation : Academy of Natural History, 71 p. ISBN: 978-5-91327-062-7.
Sydykov, Z., Baybatsha, A., Komekov, B., Serikbayev, K., Smagulov,O., Gabitov, T., Khalikov, H., Borbasov, S. 2004. Kazakhstan. National Encyclopedia Akmola region. 1st ed. ALMATY, Kazakhstan : The Kazakh Encyclopedia, 561 p. ISBN 9965-9389-9-7.
WHO. 2011. Guidelines for Drinking-water Quality. GENEVA, Switzerland : WHO Press, 595 p. ISBN 92 4 154696 4.
Yemelyanova, V. P., Lobchenko, E. E. 2002. The method of integrated assessment of the degree of contamination of surface water by hydrochemical indicators. Rostov-on-Don: Federal Service for Hydrometeorology and Environmental Monitoring (Roshydromet). Available at: http://files.stroyinf.ru/Index2/1/4293831/4293831806.html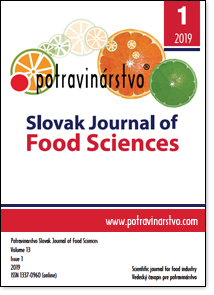 How to Cite
Akbayeva, L. ., Tulegenov, E. ., Omarbayeva, A. ., Kobetaeva, N. ., Nurgalieva, Z. ., Nurkeyev, Y. ., Martišová, P. ., Vietoris, V. ., & Zhanabaev, A. . (2019). Ecotoxicological studies of Akmola region lakes. Potravinarstvo Slovak Journal of Food Sciences, 13(1), 25–31. https://doi.org/10.5219/824
License
Authors who publish with this journal agree to the following terms:



Authors retain copyright and grant the journal right of first publication with the work simultaneously licensed under a Creative Commons Attribution License that allows others to share the work with an acknowledgement of the work's authorship and initial publication in this journal.


Authors are able to enter into separate, additional contractual arrangements for the non-exclusive distribution of the journal's published version of the work (e.g., post it to an institutional repository or publish it in a book), with an acknowledgement of its initial publication in this journal.


Authors are permitted and encouraged to post their work online (e.g., in institutional repositories or on their website) prior to and during the submission process, as it can lead to productive exchanges, as well as earlier and greater citation of published work (See The Effect of Open Access).